By Lesley | September 15, 2011
When the opportunity arose to review Nordstrom Rack, I was a little dubious. To be honest, I didn't actually know that they carried plus sizes. Turns out they do, and starting September 15, they'll be carrying more of them in the store where they already exist, and adding plus sizes to 15 additional stores. Yay! See, I've gotten accustomed to all my favorite discount stores (who shall remain nameless) limiting or removing their plus size selection, as so many have done in recent years, so rather than get my hopes up, I tend to presume that I won't find anything to fit me, and sometimes I get to be pleasantly surprised.
There's little to recommend my local Nordstrom Rack as a destination insofar as decor is concerned; the space is purely practical. On arrival, I spent several minutes wandering the big open floor in confoundment, wondering, oh no, maybe they DON'T have plus sizes in this joint. Or maybe they do but there will be three things and I'll hate them all.
I needn't have worried. Once I located the plus racks — which are integrated within the store, and not hidden in a back corner as is typically the case — I spent half an hour picking out cardigans from the racks of separates before I even found the dresses.

Longtime readers know that I don't wear pants, and indeed I don't even wear skirts — dresses and sweaters are my uniform of choice, all year round. Plus size dresses that are both high quality and pretty to look at are a rare resource indeed, rare enough that I usually rely on internet purchases to satisfy both requirements.
So I was pretty shocked when Nordstrom Rack had literal armloads of dresses in my size. (I may even have done a little dance of victory. Maybe.) I tried on ten different dresses, at least. I actually couldn't tell you the last time I was in a store that even had ten different dresses that were both in a size that might fit me AND that I liked as well. It was glorious. They even had great music playing. (These are things I notice when I'm shopping. I have a much better time if I'm singing along — quietly — to "Inbetween Days," I'm just saying.)
While I was greedily savaging the racks of dresses, I overheard an older woman and a younger woman — probably a mom and daughter — walking by. The older woman said, "Do you want to look at dresses?" and the younger replied, "No, summer's almost over anyway." LIKE DRESSES ARE ONLY FOR SUMMER. As if.
I left an hour and a half later (much to the chagrin of my husband, whom I had left waiting in the car while I ran in "for a few minutes") with two dresses, three cardigans, a scarf, and a pair of shoes (which I'm going to have to return because they don't fit — that's what I get for being lazy and not trying them on in the store).
On to the stuff I bought!
Outfit the first: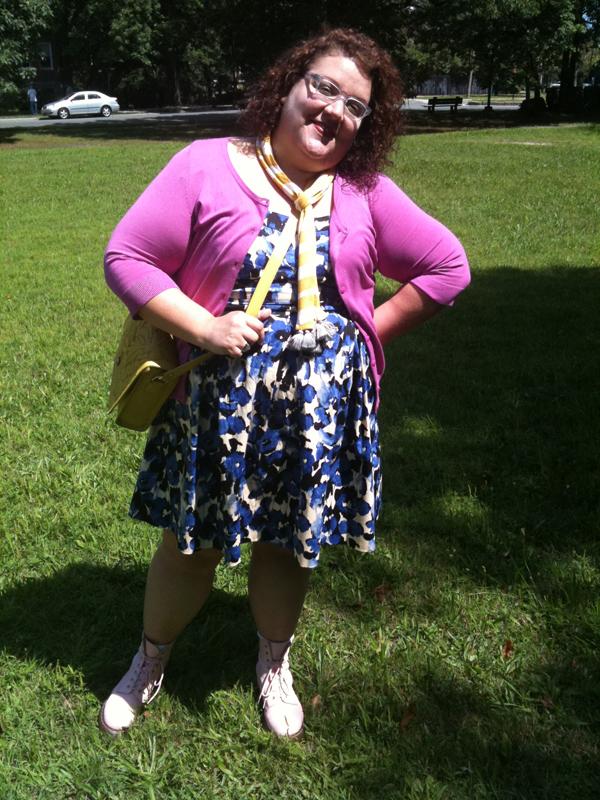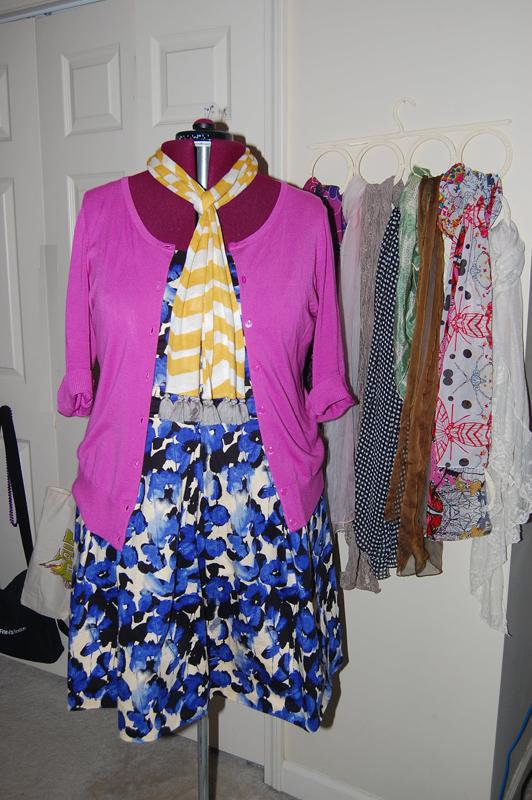 The dress is by Donna Ricco, one of my favorite dress-makin' brands, in a gorgeous blue-violet watercolor print. It has POCKETS. Who doesn't love a dress with pockets? Cardigan is by Sejour. The scarf is Fossil. I do dig my pattern-mixing.
Outfit the second: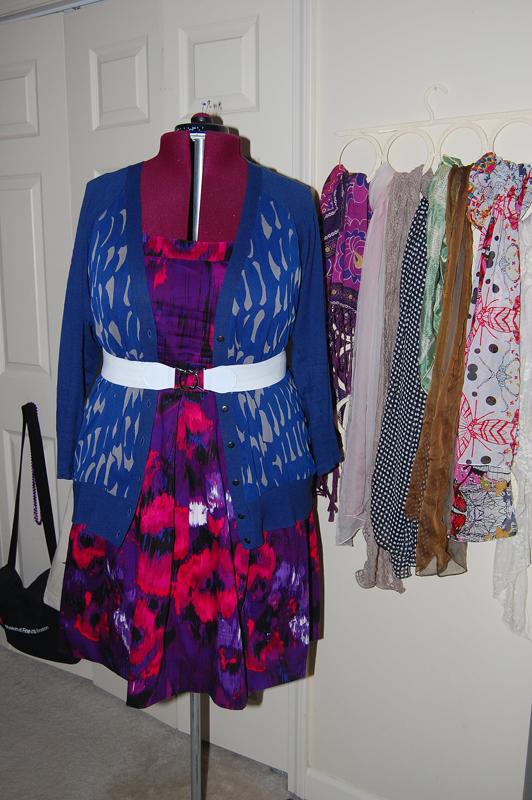 I did not have my photographer on hand for this one, and my tripod is broken, still.  Again, with the Donna Ricco dress, this time in an abstract floral in pinks, purples, blues, and white. Folks, I was so happy to find these dresses not at full price, if they'd had ten of them I probably would have bought them all. The cardigan is by Sejour. Belt is my own, as try though I might, I couldn't find any plus-size belts in my local store.
Overall I had a really fantastic experience at Nordstrom Rack, much better than I expected as a jaded and bitter plus-size dress-wearin' lady.
As part of this review, I get to give away a $100 gift card. EXCITING, right? So! To enter, comment below and tell me what you're looking forward to for fall. (It doesn't have to be fashion-related, either — "apple cider donuts" is a perfectly good answer.)
On to the fine print:
Sweepstakes will run from 9/15-10/31. Visit the Promotions & Prizes section. Here are the Official Rules.
No duplicate comments.
You may receive (2) total entries by selecting from the following entry
methods:
a) Leave a comment in response to the sweepstakes prompt on this post
b) Tweet about this promotion and leave the URL to that tweet in a comment
on this post
c) Blog about this promotion and leave the URL to that post in a comment on
this post
d) For those with no Twitter or blog, read the official rules to learn about
an alternate form of entry.
This giveaway is open to US Residents age 18 or older
Winners will be selected via random draw, and will be notified by e-mail.
You have 72 hours to get back to me, otherwise a new winner will be
selected.
---